Margaret WHitehouse memorial fund
Free art education for those who may really need it!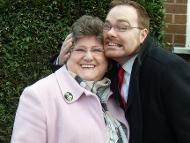 making art accessible for those who need it
The Margaret Whitehouse Memorial Fund was set up to honour the memory of Margaret, Barry's mother who passed away in 2016 after a short three month battle with an aggressive form of
Margaret supported the shop, worked as a sales assistant, and was a lover of art believing everyone should have access to it. She supported Barry in his chosen career, often going without to pay for picture framing for his exhibitions when he was a teenager.
The fund is a way to continue this belief by offering a six month free art education programme to underprivileged young adults (aged 18-25) who love art, but have had no formal training in art at all, and who are not in a financial position to attend lessons. Once we are satisfied criteria is met from their application, we allow 20 adults six months of free online classes, attending one 2 hour long workshops each week which in total equates to around £1,000 worth of free education, plus the use of materials. It is funded wholly by us here at The Artery, and by donations. Find out more about it from Barry's interview on That's Oxfordshire TV or in the Banbury Guardian.
So if you are aged between 18 and 25, love art but have never studied it (even at GCSE level), are on low income or means tested benefits, then you can apply. The six month programme starts from July and runs until December, and then a new programme with three new students begins January to June. We are also opening this fund to provide 6 months free online art classes to current NHS staff, and those who have lost their job due directly because of the COVID-19 pandemic for July-December 2020 (proof will be required on application).
Applications open on 2nd March and a form can be downloaded below, or picked up from the shop.
If you would like to make a donation to support the fund, you can do so from our Just Giving page.