21 Parsons Street | Banbury
(01295) 275150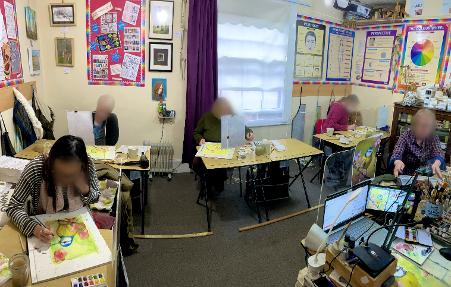 Face to face Classes
Our small first floor art classroom comfortably sits 6 students. It is fully equipped with all the latest technology such as large interactive whiteboard and projector, so everyone can see what is being taught. In fact what you see in our online classes is what you see in our classroom, only much bigger and with the benefit of having Barry on hand to help with any problems you have in your painting or drawing!
The classroom is equipped with daylight lighting so that your colours remain as they would appear outside, as well as a creatively encouraging environment with dispays and plants.
Almost all of our classes are self-contained, allowing you to pick and choose the lessons you would like to attend, without booking lengthy courses. We know how important flexibilty is to you, and how having he ability to choose your classes alows you to better manage your budget. A hot drink at half-time is included in your fee.
Please book face to face classes in person, as your deposit is needed to secure your place.